Welcome to Woot Text SMS Gateway / WootText Short Code SMS Service
Do you know how to attract more clients?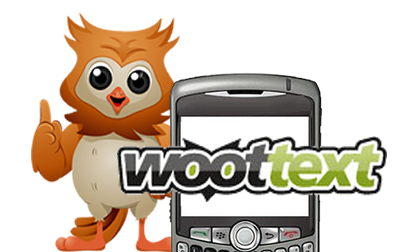 With SMS taking the marketing industry by storm there is no doubt you need to show perceived value when presenting how businesses can increase their bottom line with SMS marketing. Perceived value is a thing of the past, with WootText SMS Gateway Version 7.0 and its Vanity Short Code 69696 you show actual real professional value from the get go. WBSMS has the tools even the SMS BIG BOYS
would salivate at a chance at copying. It's time to put a world of hurt in the SMS Marketing Industry, get WootText SMS Gateway Version 7.0 and its unparaleled short code service featuring the vanity short code 69696.

Why Woot Text White Label SMS?
Our white label solutions for sms marketing allows anyone the REAL opportunity to be successful sms entreprenuer. Coupled with Industry crushing platforms for SMS Campaigns and Loyalty Tablets, our white label pricing slams the competition in every aspect. Not only do we offer world class solutions &

REAL

vanity short codes, we mentor all our customers to assure your success as a sms professional.

How does Woot Text stack up vs the "Other" guys?
Woot Text is the lowest entry point in the industry (period). Most white label providers spend alot of time and money for your attention, how can they do this? The old fashioned way, they pass the buck equating to higher costs and useless so called "awesome bonuses" and unlimited access to these usless bonuses. With all the smoke and mirrors your programmed to thinking your getting a great deal. Woot Text is the future of SMS maketing with ready, out of the box solutions that dont require a professional programmer or require you to study a 100 page pdf to learn how to send an sms with a clunky API.


More information on WootText SMS Gateway Version 7.0 HERE
More information on Project Loyalty HERE

If you are a Wrecking Ball Marketing Owner already and have signed up for short code services, please point your browser to http://woottext.net/mergeaccounts.php to merge your WBSMS System to Woot Texts short code account management system.